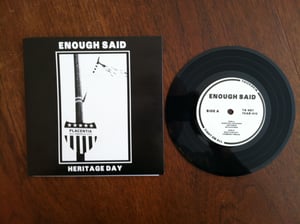 $

5.50
"Debut 7" from California's best kept secret. 5 Soon to be classic traxxx of grade "A" USHC influenced by equal parts X-Claim! & early NYHC. Not for the weak." - Description courtesy of Fight 'Em All Records/Disapproval's Jesse Hernandez.
PLACENTIA STRAIGHT EDGE
Black /400
This is a split release between Thick Skin Records & Fight 'Em All Records. TS-007/FEAR-013
Download the record for free here
NO INTERNATIONAL ORDERS (at this point and time). Should be hitting international distros soon! Please email etberti@yahoo.com for wholesale prices and all other inquiries.